Design Editor Karla Dreyer visits Rosewood Home & Condo to create a stunning yet highly functional bedroom in a small space.
SPACE HOG In a small bedroom, the bed will take up the majority of the floor space. We started with a beautiful wood storage bed which allows you to use that same square footage for both sleeping and storage.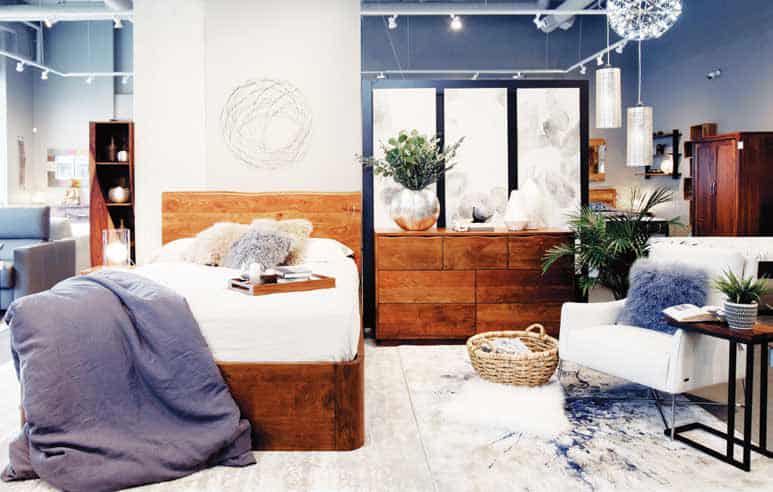 SIDE STORY It's always a good idea to think lateral when designing a small space. On one side of the bed, we placed a small side table with a bookshelf behind it to double the storage. On the other side of the bed, we skipped the side table and used a dresser instead. This gives us the storage space of a dresser but you can still use it as a side table as well.
GO NEUTRAL In a small space, it's nice to keep the color palette neutral to open up the space and add warmth. We have accomplished this with beautiful rugs, a small chair and side table as well as a basket for storage.
HANG AROUND Hanging lighting from the ceiling rather than placing lamps on a side table is another great space saving tip!
Design by Karla Dreyer, www.karladreyerdesign.com; Photography by Janis Nicolay, www.janisnicolay.com; Furniture and Accessories, Rosewood Home & Condo, www.exoticrosewood.com
The following two tabs change content below.

Karla is an award-winning Interior Stylist who believes in living authentically at home and in life. Her work has been featured in ELLE Magazine, Style at Home Magazine, Rue Magazine, Design*Sponge, Western Living, Modern Sanctuary and Vancouver Magazine. She is a regular guest expert on City TV's Breakfast Television, CBC, produces the reoccurring "How to Style" series on the Marc and Mandy Show, and for Canadian Home Trends Magazine. She has been awarded Best of Houzz Design, Customer Service, and the Influencer Award. She also produces a weekly You-Tube Show with Design Tips & DIYs.

Latest posts by Karla Dreyer (see all)